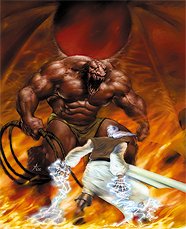 ---
"In a market that's presently saturated with 3D real-time strategy games, many of which have science-fiction themes, it's great to see a 2D fantasy game that actually brings something new to the table. While Warlords Battlecry is evidently derivative of other fantasy-themed strategy games, its combination of elements taken from its predecessors makes the game unique in its own right. The focus on heroes particularly adds an interesting angle to the gameplay, and along with the de-emphasis on resource gathering, it makes the game seem substantially different from its predecessors. Also, the sheer variety of units and play options ought to keep you occupied for a long time." -Tim Soete, GameSpot
---



Warlords:BattleCry




Patchs:
Install 1.01 then 1.04
Patch 1.01
Patch 1.04
Patch 1.04b (sound fix)

Tools:
Documentation of the game answers every question you could ever have about the game and more.
Tome of Knowledge

Maps:
Wildlands 5-8

Frequently Asked Questions:
-How Do I Play Online?
.1. First you must download patch's 1.01, and 1.04 in that order. They can be found at the bottom of the page
.2. Then goto GameSpy and create or join a game, it can be found at the top, if GameSpy keeps crashing, goto step 3
.3. If GameSpy keeps crashing you need to play over TCP/IP. This is risky for you must tell other your IP adderess and hackers can use that. So I recommend only playing games with people you trust.
.4. Run Warlords:BattleCry, then click on Multi-player (the two-sworded icon) Then create or connect
.5. If you create, minimize Warlords:BattleCry and tell others your IP adderess
.6. If you are joining, wait for them to tell you then click connect and type in the adderess
-How Do I Switch Heroes on GameSpy?
Go to start, find files and put in " lobby launcher " when it shows it to you all you do is right click on it and make a short cut to your desk top, then you go to start, settings, and go to add/remove programs, delete " mplayer " and then it is ready to use to use the lobby launcher all you do is open it and click on the hero you want to use, then click on " mplayer " it will give you a error, ignore it and click " ok " then you close down the lobby launcher and your hero is now loaded and ready to use on gamespy.